There are few better ways to enjoy a cool evening than sitting under your patio cover being entertained by the warm glow of your fire pit, chimenea or outdoor fireplace.
Choosing the right fire feature for your outdoor living space is entirely dependent on what type of design, size, and use best suits your needs. At Affordable Shade Patio Covers, we believe a custom patio cover is the first step in creating a wonderful outdoor living area.  And, adding a fire pit, chimenea, or an outdoor fireplace will make an aesthetic and functional contribution to completing your outdoor living vision.
To better understand what might work best in your outdoor living area, we've provided some guidance.  Although the products are similar in function and design, there are a few notable differences.
Fire Pits
When picturing a fire pit, you likely envision an area carved into the ground, protected by stone or brick, semi-permanent built into the outdoor landscape of your patio.  Whether you choose a fire pit with hints of artisan allure or a custom made unit to match your unique design preferences, you'll be delighted and intrigued by the flames.
Metal fire pits come in a variety of shapes, sizes, and designs. Some are a simple round shape with no edge while others have a small border. Some fire pits are made into tables (fire pit tables) which look upscale, modern, and clean in design. These resemble coffee tables for your outdoor living space.  Others tap into the rustic Texas design that's so popular in the Lone Star state, with a worn iron finish and carvings around the basin that glow like a jack-o-lantern when a fire is burning.  A metal fire pit that stands above the ground on legs and can easily be moved around on your patio.
No matter the design you choose, each has a metal basin sunken into the piece to hold firewood. Each also has a protective mesh cover to reduce the risk of stray embers and other hazards.  Some have the option to attach a grilling grate over the basin so you can enjoy a fire while also cooking dinner, allowing you to appreciate some of the fun of camping without ever leaving your home.
Chimeneas
Chimeneas are a traditional Mexican fireplace once made exclusively out of clay. As you might imagine, their design suited southwest tastes and styles. However, their growing popularity bred metal pieces and modern designs. Now, you can find cast aluminum chimeneas in different colors and finishes, often with intricate designs set into the surface. These pieces are reminiscent of European or even industrial turn-of-the-century fireplaces.
Chimeneas are usually teardrop shaped with a small opening on the face and a chimney on top. Unlike a fire pit whose fire can be viewed from all sides, there is only one opening on the front of chimeneas – though the warmth radiates to all surrounding areas. While you won't be cooking any food over their flames, except perhaps a marshmallow for s'mores,, they still perfectly suit the purpose of enjoying a fire and keeping you warm under your patio cover.
Outdoor Fireplaces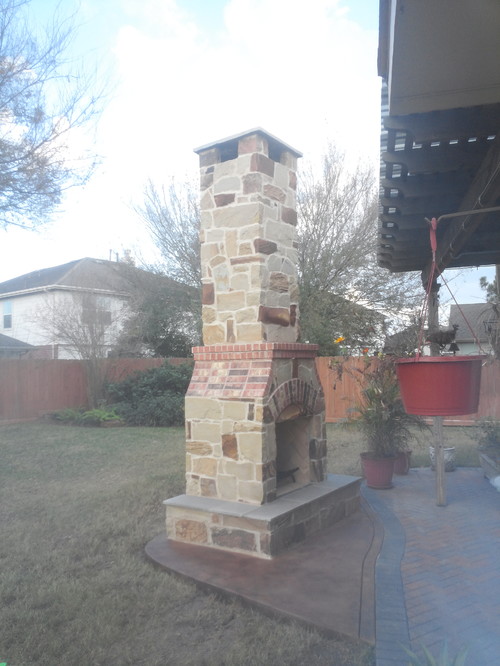 Outdoor fireplaces might be the hybrid of  a fire pit and chimenea you desire under your patio cover.   An outdoor fireplace creates a wonderful cozy outdoor living area. Your fireplace can be designed for wood burning or a natural gas connection.
An outdoor fireplace can be the center of your patio or easily transferred to another corner of your outdoor living space. While it doesn't provide the multipurpose use of cooking food or the support of a coffee table, an outdoor fireplace is beautiful and functional. You can choose from a variety of sizes, shapes and finishes, satisfying those looking for a sleek, modern style to a rustic design.
About Affordable Shade Patio Covers
Affordable Shade Patio Covers has been an outdoor remodeling expert in Houston since 2003. In early 2006 we began to narrow our focus and specialize in custom-built patio covers, designed to complement the look of your home. We listen to your needs, offer our ideas, and together we'll come up with a design to meet your budget.  We build custom patios, wood pergolas, aluminum patio covers, aluminum arbors, no-fuss patio covers, and decorative and structural concrete.
Call us at (713) 574-4969 for a free in-home design consultation.