With warmer weather (and during the fall, why discriminate?) comes the appeal of grilled foods like hamburgers, hot dogs, marinated steaks, grilled kabobs, and on and on! Especially if it is a under a custom patio cover built by Afforadable Shade.
What is less exciting is the price of that new grill you have been drooling over, making excuses to go to the home improvement store to just spend a few intimate moments in the reflective chrome glow of the one that WILL one day be yours.
But there is good news!
You don't have to break the bank to get an excellent new gas grill: here is a list of the top 5 gas grills that retail for less than $500 so you can stop drooling and start grilling!
The Broil-King Signet 320
The Broil-King Signet 320 gas grill has plenty of grilling area concerning square inches of cooking surface and boasts a high BTU rating while remaining a compact chrome delight, sure to be a backyard hit with the entire family, the guys, and anyone who loves grilled food!
The BK Signet 320 also includes a burner that is handy when you need to heat up some beans, keep some homemade queso warm for the outdoor party (a personal favorite of the author), or anything else that would fall through the heavy cast iron grates on the grill itself.
Char-Broil Performance 5 Burner Gas Grill
Possibly one of the best, large economic grills on the market today, this Char-Broil model is a beast when space isn't a concern that will definitely light your fire!
This 45,000 BTU chrome beauty boasts five powerful burners and a 10,000 BTU side burner for side items and is powerful enough to make a windy day a non-issue when it comes to even heating.
This model also has a temperature gauge in the lid for your convenience and ultra-precise cooking, with one of the more reliable electric ignition, triggers to get things heating up without hesitation.
The Weber Genesis E-410 Grill
This genius mid-sized grill from Weber could be the genesis of your next grilling success!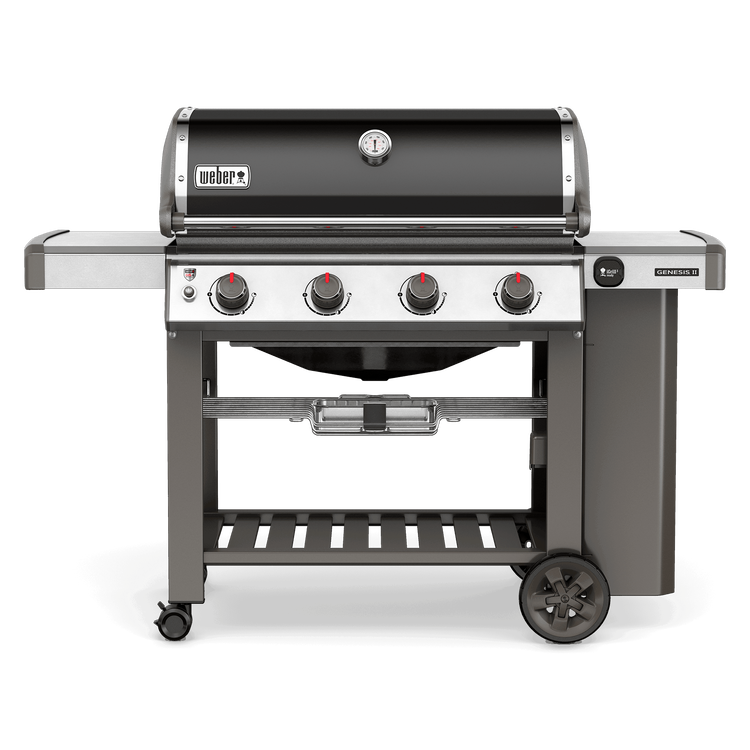 The Weber Genesis E-410 is the four burner middle child of Weber's more economical line of mid-sized four burner grills that gives you most of the same features of a more massive grill without taking up an entire patio or party area.
This unit also boasts a pretty vast amount of shelf room for food prep and a convenient place to set a cold beverage and your favorite spatula down while you get your grill on!
Blackstone Outdoor Flat Top Gas Grill Griddle Station
Beyond being a gorgeous piece of chrome plated heaven to look at, the Blackstone Outdoor Flat Top Gas Grill Griddle Station is on the larger side when it comes to space it takes up and the flavor it cooks up!
Want to grill a steak, three burgers, and a grilled cheese (see what we did there?) at the same time for an outdoor get-together? This is the one!
Eggs, bacon, and pancakes become outdoor cuisine with this grill griddle station, with cleanup being a breeze that is sure to please!
The Monument Grills Propane Gas Grill
The Monumnet 6 Burner Gas Grill indeed is a monument to cost savvy grill lovers everywhere, boasting a rotisserie and spit to evenly roast meats of all varieties, a ridiculously power 60,000 BTU rating (not a lot of time wasted waiting for things to heat up), and a 513 square inch cooking surface to get everything done at the same time!
This fantastic grill also features porcelain coated cast iron grill plates, a temperature gauge in the lid, and the convenience and style of led backlit control knobs- no need for a flashlight when you need to change the settings!